Ref:
Date:
Location:
Photographer:
Ref:
Date:
Location:
Photographer:
Welcome
Blizard Physiotherapy and Sports Performance Clinic is the fruition of husband and wife team, David Tune and Jenny Blizard, who bring their individual skills and backgrounds together to offer a unique personalised service to improve the health and well being of all their clients.

The company's ethos is "Investing in your greatest asset …. You!"

These beliefs are held strong in every aspect of their business and core beliefs, and in the skill set of the individuals who make up the Blizard Team.

Having enjoyed a lifetime of international sporting achievements both Jenny and David strongly believe that fundamental principles, alongside a logical approach using current science in both physiotherapy and sports performance, is the correct pathway to both rehabilitation and continual improvement.

All of the Blizard Team work together to share their immense knowledge and also offer their personal experiences with every client to offer a total solution, believing everyone deserves to be the best that they can be.
Lactate Threshold Testing
97% of our Lactate Threshold tested athletes achieve PBs by running to heart rate!
Train Smart with Dave Tune
We implement the Maitland Concept of Physiotherapy whenever possible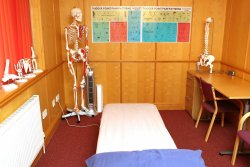 Find out why manual physiotherapy is so successful
Click here
Find out how you can fulfil your athletic potential with our lactate threshold cycling and swimming analysis services